Glaswegians pretty much do the travel PR for Scotland's largest city effortlessly. Just try standing at a bus stop in Glasgow city centre without a local telling you all about themselves and their city.
The city has transformed itself in the 30 years since the Glasgow Garden Festival kicked off a travel marketing campaign that turned a down-at-heel industrial area into an artistic and commercial powerhouse.
But as anyone who's been there will tell you, it's the people who make Glasgow. Here's our tips to help you entertain yourself on a stopover in the city …
Taps Aff
"Sun's out, guns out" translates to "taps aff" in Glasgow – literally "Tops off". As soon as the mercury gets anywhere near 20C, young men's pale blue chests start appearing on the streets. One of the finest spots to take in this sight – blindingly white though it is – is at Kelvingrove Park in the West End. Better still, ignore the acres of flesh and just soak up some rays in one of the city's most appealing parks, within walking distance of great pubs, restaurants and cafes.
Breakfast of champions
We'd like to claim Café Strange Brew as a well-kept secret but it's far too good for that – and wins far too many awards to stay secret. The most recent is Best Restaurant in Glasgow at The List's Eating and Drinking Awards. It's not just your standard breakfast fayre, either – head over to 1082 Pollokshaws Road in Shawlands for their Naughty Waffles or Short Rib Hash with Puffed Corn, Mustard Hollandaise and Crispy Onions.
A Play, a Pie and a Pint
There's dinner theatre, then there's the Glasgow creation that is lunch theatre. Oran Mor, on the corner of Byres Road and Great Western Road, lays on 38 new plays every year. With tickets priced £10 to £14, you get exactly what the name suggests – A Play, A Pie and A Pint.
House for an Art Lover
What other city would build the dream home of one of its favourite sons? Architect, artist and designer Charles Rennie Mackintosh laid out his plans for his House for an Art Lover in 1901 for a magazine competition. It was completed in Bellahouston Park in 1996 – 68 years after the architect's death – and shows off his trademark floral motifs and multi-faceted windows. Breathtaking, inside and out.
The Duke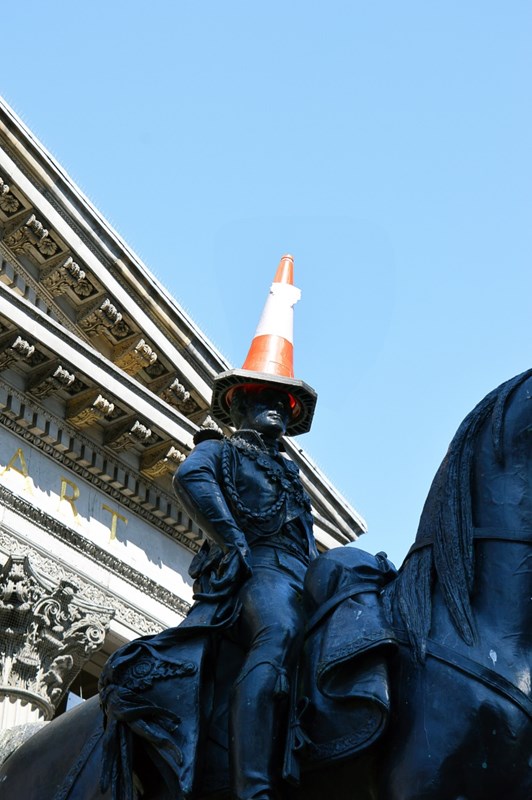 You've got to pay your respects at the Duke of Wellington's statue at Royal Exchange Square – not just to the famed general, but to the generations of young Glaswegians who've scaled the bronze to place a traffic cone on its head. It's become an icon, a prime example of the locals' cheek and a fixture in travel marketing for the city since the Commonwealth Games in 2014. If you nip along for a look after dark, you'll also get to see the Instagram delight that is the net of fairylights strung around the Museum of Modern Art and across the square. Romantic.
The West End's Lanes
The West End's the more bohemian part of the city, with its large student population and arty scene. And the most bohemian parts of the Wet End are Ruthven Lane, Creswell Lane and Ashton Lane. Ruthven and Creswell have tiny shops selling all sorts of curiosities to while away hours in – and you can refresh yourself in one of the plethora of pubs and restaurants on Ashton Lane. Have a Belgian beer at Brel, or book up at the renowned Ubiquitous Chip for some fine dining.
Deep, dark secrets
Glasgow's filled with museums and art galleries – from the Tall Ship and the Riverside Museum on Clydeside, to Kelvingrove Art Gallery and Museum in the West End, to the city's social history at the People's Palace on Glasgow Green. Some of us even have photos of our relatives on display at the Palace. For travel PR purposes, the museums are a gift as there's always something attention-grabbing going on. But if you're more into something spooky and seldom seen, book up for Glasgow Central Tours. It takes you beneath the main platforms of one of the city's main railway stations to the disused platforms below. Spine-tingling.
Wan singer, wan song*
The Horse Shoe Bar's karaoke night is a Glasgow city centre institution – seven nights a week. But for every drunk shambling through Summer Lovin', there's a secret superstar belting out Adele songs like a pro. There's some serious talent on display upstairs at 17-21 Drury Street from 8pm every night – and from 5pm on a Sunday.
* "One singer, one song."
Made in Scotland – from girders
They call it our "other national drink". Irn-Bru is also our national hangover cure, although we're still running tests on the effectiveness of the new lower-sugar version. Irn-Bru, now made and bottled in Cumbernauld, is in the fridge of every corner shop. You'll need it – preferably in a glass bottle, this nectar's truest form – the morning after the Horse Shoe's karaoke, perhaps with a roll and tattie scone (available in any bakers' shop).
By George!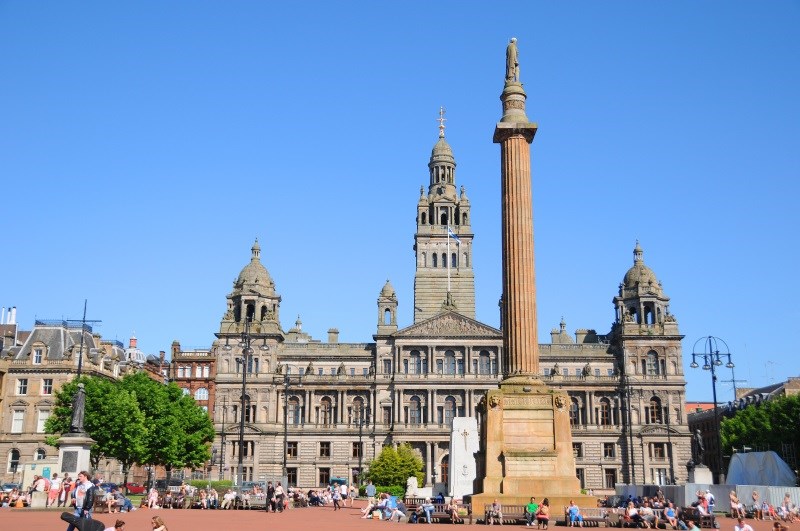 George Square is regarded as the centre of the city. Framed by imposing buildings – including the City Chambers, home to the world's largest marble staircase outside of the Vatican City – it's where the locals come to celebrate and demonstrate. You'll find photos online of the city marking major events here, from the Rent Strike demos of 1915 to Christmas markets, and from Hogmanay hoolies to poll tax protests. It's also home to a huge selection of park benches, where you can rest your weary legs while watching the world go by. On a sunny summer lunchtime, it's were office workers head to catch a few rays along with their sandwiches. Great for people-watching.
Rock'n'Roll history
You'll have heard of Oasis. Well, you can stand on the spot where they first got signed. King Tut's Wah Wah Hut, on St Vincent Street on the south side of George Square, is a hub for up-and-coming bands. And it was here back in 1993 that Alan McGee saw Oasis and signed them to his label Creation. Rock'n'Roll Stars are made on King Tut's tiny stage – and tasty, inexpensive meals are made in its kitchen. If you can't catch a gig there, see if you can scoop tickets for a show at the city's other legendary venue – The Barrowland Ballroom – and experience the bounce of its sprung floor when the crowd gets going.
Art Deco dinner
The Rogano, at Exchange Place in the city centre, is the very definition of a Glasgow institution. Fitted out in Art Deco style in 1935, it's swish, elegant and the place for seafood in the city. If you don't feel like a full meal, we can recommend the Guinness and oysters, served in the outside seating area while you watch the fashion parade on Buchanan Street. Sufficiently refuelled, hit Buchanan Street – it's packed with designer stores.
The Concert Hall Steps
At the top of Buchanan Street, this is the cheap alternative to the Rogano. Hit Greggs for a steak bake and a can of Bru, plonk yourself on a step and watch the world go by. And once you're feeling refreshed, nip into Buchanan Galleries for some cool air and even cooler shopping.
We are the travel marketing experts. Contact us now on 0800 612 9890.